Academic programming
Montessori Bilingual Academy of Rockledge offers a welcoming, stimulating environment that cultivates your child's independence, self-esteem and social & academic potential, with an individualized curriculum that will lay the foundation for a lifelong love of learning.
Mixed Ages Group Classes
Classes are characterized by simplicity, aesthetics and order to meet the needs of each child. The focus of the environment is on fostering basic trust in the child in an environment where the adult is caring, respectful and responsive to the toddler's physical, emotional and psychological needs. It conveys the message of unconditional love and acceptance.
Montessori Bilingual Academy of Rockledge provides a warm, energetic, educational home. The child will acquire a love for learning, which will ultimately help them achieve their full potential. Our goal is to inspire children to be social, caring, and responsible human beings. Our classrooms are prepared with highly qualified Montessori certified teachers. The multi-age classrooms allow for children to learn from one another, work as a team, and learn to collaborate together.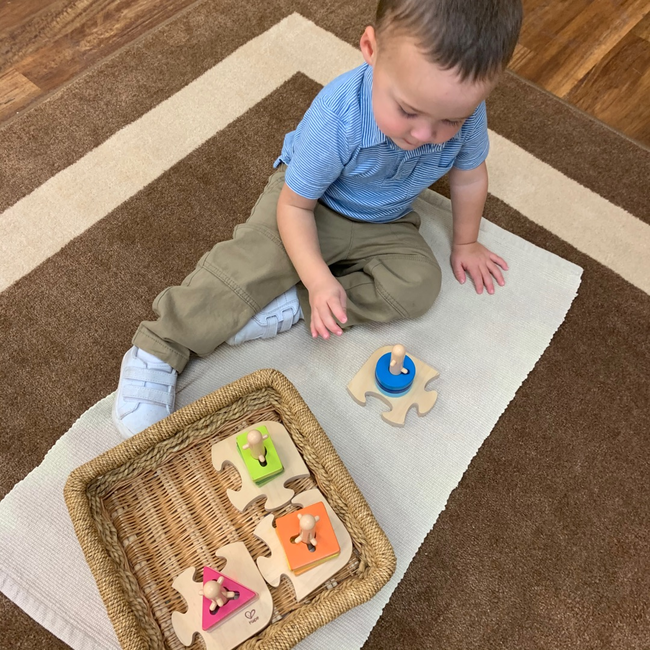 Toddler Program (Ages 12 months – 3½ years)
Our Toddlers program is designed to address the needs of this early developmental period by focusing on the processes of independent exploration, learning, and the joy of discovering the world. Toddlers receive responsive, individualized attention to help them with practical life skills, sensorial exploration, language development, development of fine and gross motor skills, investigation of the natural world through science, and an appreciation of art and music.
Toddlers enjoy group activities including songs, stories, movement, Spanish, Art and Music Together outdoor play, and snacks. Materials are carefully selected and prepared for children in this critical stage of learning and discovery.
Curriculum
Language
The primary focus at this age level is language enrichment. A vast exploration of language is done in this age group where students explore the language through their senses. They will start to develop spoken language and learn how to communicate with others. We support these milestones through books, songs, poems, and language materials. All activities are aimed to support new vocabulary and encourage open communication. Dual-Immersion in Spanish is also implemented daily, and children will hear, recognize, and learn both languages simultaneously.
Practical Life
In the Montessori Classroom, the child has the ability to choose to work themselves, they are able to complete purposeful tasks found in the real-world. In the Practical Life Curriculum, children are taught everyday jobs such as cleaning (sweeping, dusting, dusting, washing, polishing), gardening (caring for plants, nature, and the environment). It allows the child to gain independence and self-sufficiency. Children gain self-confidence by completing their work independently and master the skills to successfully complete the tasks.
Motor Skill & Problem Solving
In the Montessori Classroom, each child is evaluated and a curriculum is adapted specifically for them. We believe each child is their own individual person and must be treated as so. Our curriculum is based on the child's development, and formulate it to meet their basic needs and standards. We develop activities for the child to understand cause and effect, make choices, solve problems, and pursue goals. All activities also focus on fine and large motor skills.
Grace and Courtesy
We strive for every child to learn and understand the importance of respect, consideration, grace, and courtesy. Mixed-age groups allow for the child to communicate with others, to learn from others, and to collaborate together. Our educators will show the child courteous interactions, instead of constantly correcting the child's behavior. These interactions are ultimately imitated by the child.
Schedule
1 year to 2 years old class
We offer 3 different options for your child:
Half-Day Program: 8:30 AM to 11:30 AM
Full-Day Program: 8:30 AM to 2:30 PM
Extended-Day Program: 7:00 AM to 5:30 PM
5 Day program, 3 Day Program (Monday, Tuesday, Wednesday), 2 Day Program (Thursday, Friday)
2 years to 3½ years old class
5 Day Program with mixed-age groups, the younger children learn to observe, imitate, and learn from the older children. In return, the older children build confidence in their knowledge, develop leadership skills, and obtain a sense of belonging.
The classroom is composed of work or materials, but not toys. They will develop independence, self-confidence, self-esteem, and a love for learning. All the work materials are placed at a child's level. It attributes a sense of belonging, ownership, and autonomy. The classroom has a sense of inner peace, children work better in an environment where noise-level is limited allowing for further concentration for their work.
All work is based on concrete learning. The child learns through the exploration of their senses, and hands-on materials. Presentation of materials will be taught daily until the child has mastered their lesson. Children learn from repetition and will correct their own errors, instead of relying on others. This allows the children to have self-confidence and increase their desire to learn.
A limited number of spaces are available each year. Please contact us to find out more!
Primary Program (Ages 3½ – 6 years)
This is a 3 year program. It allows for the older children (Kindergartners) to become the leaders, mentors, helpers, and role models to the younger children. In return the younger children, admire the older children and successfully learn from their peers.
We provide intriguing learning materials that encourage engagement and a joy of learning. Students learn through hands-on experience, investigation, and research. They become actively engaged in their studies, rather than passive listeners.
Curriculum
Practical Life
Allows the child to successfully complete complex activities that must be performed in order to achieve results. It allows the child to comprehend and execute functioning skills. Allows for concentration, and it prepares the child for writing by strengthening fine motor skills. The child will comprehend problem-solving which is the foundation of creative expression, including science, math, programming, writing, art, engineering, and athletics.
Sensorial
Provides didactic material aiding the child's exploration of certain aspects of the environment such as dimension, color, texture, temperature, length, shape, etc. Allows the child to arrange, classify, and describe the impressions of the surrounding world. Many of the sensorial activities are directly related to math and geometry concepts and help create an order for your child's mind in preparation for mathematical concepts.
Mathematics
Consists of a sequence of materials that begin with the concrete and finish with abstract concepts. This assists the child to comprehend concepts of numbers, symbols, operations, sequencing, and memorization of basic facts.
Language
Allows for oral language development and nomenclature. We introduce the phonetic sounds of the letters, which allows the child to build simple words then sentences with a movable alphabet. The children will be able to express themself through writing, basic grammar, and literature.
Cultural Activities
Includes art, geography, zoology, botany, history, music all of which allow for an overall richness in the Montessori Curriculum. It provides the children with a knowledgeable foundation of the world around them.
A limited number of spaces are available each year. Please contact us to find out more!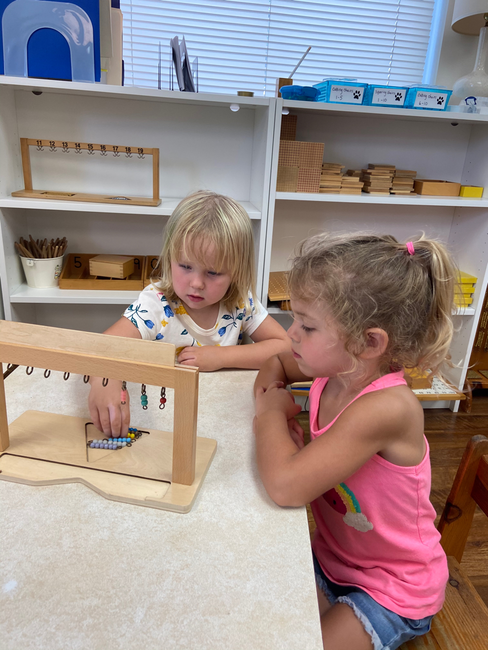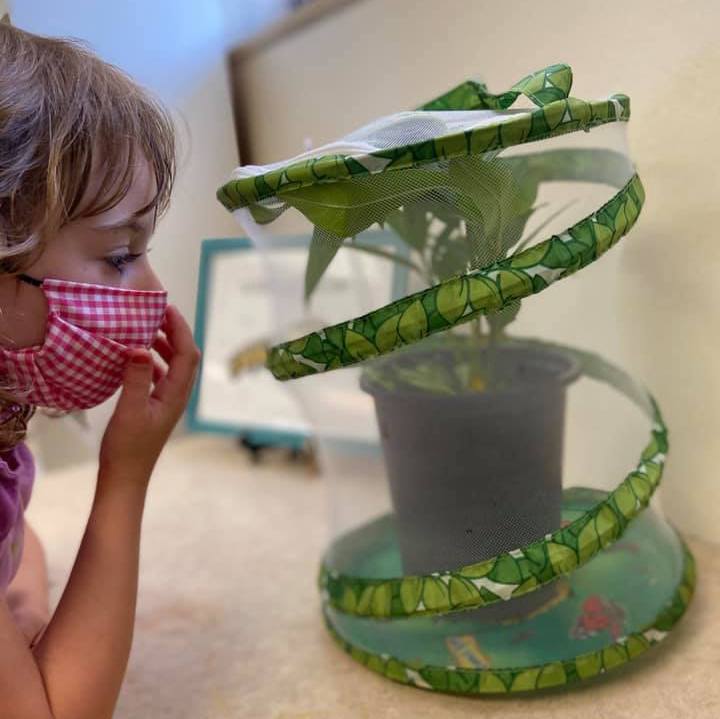 Lower Elementary Program (Ages 6 – 9 years)
Will be open August 2021! A limited number of spaces are available each year. Please contact us to find out more!
+ Enrichment Program
All Enrichment Programs are optional and are held at our campus following School-Day dismissal. The activities are held by qualified outside professionals, thus all payment and registration is conducted through individual organizations.
Day of the Week: Monday
Activity: Soccer
Benefits:
Gross motor skills, improve physical health, builds confidence and self-esteem, introduces leadership and teamwork.
Time:Various through out the day
Day of the Week: Tuesday
Activity: Little Dancing Stars. Tap and Ballet
Benefits:
Improves coordination, agility and flexibility. Improves spatial awareness. Reduces stress, depression and anxiety.
Time: 2:00 – 3:00
Website: http://dancinglittlestarspbb.com/
Day of the Week: Wednesday
Activity: Stretch-N-Grow
Benefits:
Encourages physical fitness, imagination play, coordination, movement, flexibility and strength.
Time: 2:00 – 3:00
Website: http://stretchngrowflorida.com/
Day of the Week: Thursday
Activity: Yoga on the Lawn
Benefits: Reduces anxiety, boosts self-esteem, increases body awareness, mindfulness, concentration, memory, strength and flexibility
Time: Various throughout the day – offered to all students
Day of the Week: Friday
Activity: Art Education
Benefits: Enhances communication, creativity, focus, motor skills, collaboration, visual learning, math concepts, critical thinking
Time: Various throughout the day – offered to all students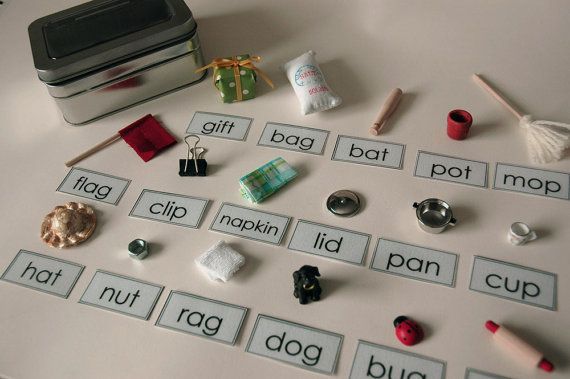 VPK Reading/Language
Learning to read begins during the infant and toddler years when young children learn to understand the spoken or signed language; it does not occur spontaneously or naturally. Adults must show children various purposes for written material such as story books, letters, menus, shopping lists, etc.; identifying functional purposes with these materials increases a child's motivation to learn to read. Research has shown that children learn to read more easily and earlier when they are read to often.
There are many learning-to-read activities throughout the Montessori VPK curriculum. These are grouped into categories called exposure to language, phonemic awareness, phonics development, phonological awareness, word identification, word study, comprehension, composition, and fluency.
Reading/Language lessons continue throughout the Montessori VPK student's day in all curriculum areas and in all activities. By the end of their VPK year, our students know the sounds of the alphabet, blend sounds into three (or more) letter words, reads three-letter word books, and writes a sentence with the moveable alphabet. They are exposed to Montessori Language Materials such as Sandpaper Letters, Language Cards, Sound Games, Moveable Alphabet, Metal Insets, Word Cards, Puzzle Words, etc. Our VPK program has a 100% Kindergarten Reading Readiness Rate.
Object Game: This reading activity uses small objects with names containing long and short vowel sounds. The child matches the object with the name of the object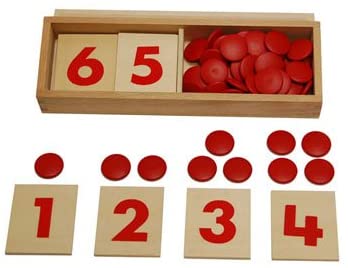 VPK Math
Montessori Math materials graphically show what is taking place in a given mathematical process making it much easier for the Montessori VPK student to really understand and put their skills to use in everyday life. Our VPK students use hands-on, concrete educational materials that make abstract concepts clear; they can literally see and explore what is going on, offering a logical strategy for helping students understand and develop a sound foundation in Mathematics.
By the end of the school year, our VPK students have learned the foundation for working with the decimal system, adds and subtracts up to thousands, counts by 1's to 100, and has learned the basics of multiplication and division. By using our Montessori Math materials such as The Red and Blue Rods, Spindle Boxes, Numeral Cards, Cards and Counters, Golden Beads, Short Bead Stair, Teens, and Tens Boards, The Hundred Board, Fraction Circles, The Stamp Game, etc., Rockledge Montessori VPK students are well-prepared to enter Kindergarten and beyond.
Cards and Counters: Individual number cards to arrange in order and individual discs to count demonstrate that the child recognizes the number 1-10, knows the order of the numbers, understands one-to-one correspondence, and can relate the proper quantity to the numbers.
One Hundred Board: A square board with a 10×10 grid pattern holds tiles numbered 1-100 for linear counting practice and reinforcement of number recognition in the tens.
Stamp Game: An abstract representation of the decimal system. Wooden squares, or "stamps", of identical size represent the different decimal categories with colors and numbers. The children work at a table instead of a floor mat, using four digits problems written by the teacher.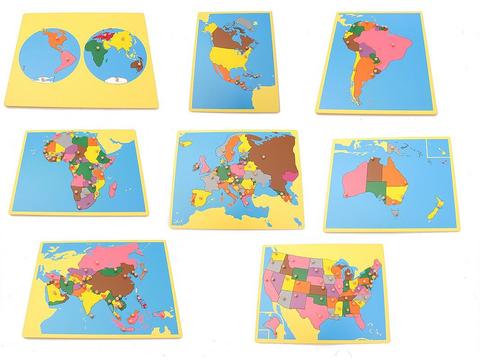 VPK Geography
Montessori's integrated thematic curriculum allows a broad scope of study in the areas of Geography, History and International culture. The children study the emergence of human beings during the old and new stone ages, the development of the first civilizations, and the universal needs common to all humanity. The Geography activities present facts and nomenclature of physical geography, i.e., the physical characteristics of the earth, and political geography, i.e., the countries and cultures of the world.
VPK students at Montessori Bilingual Academy of Rockledge love to work with Puzzle maps which help them to learn the names of the continents and identify the many countries, states, and provinces. VPK children can also identify land and water on a Globe and using the Land and Water Forms they learn to identify and name the largest lakes and islands etc., VPK children also enjoy working with the flags of the world and identifying the parts of a flag.
Puzzle Maps: A set of 8 maps that teaches the children to recognize and name each continent, the countries of each continent, and the states of the United States. Labels for each puzzle piece extend reading skills; map-making activities extend writing skills. Outlined paper maps of each puzzle to color and label provide extended practice of the names and recognition of the continents and their respective countries.
Land and Water Forms: Individual three-dimensional models of the 8 major land and water formations on the earth introduce the study of physical geography. Water is poured in and around these molds to represent formations of a lake, bay, strait, gulf, island, cape, isthmus, or peninsula. The lesson includes names and definitions of the land and water formations.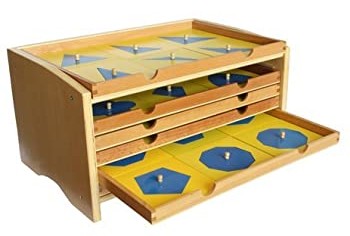 VPK Sensorial
Children receive impressions through their senses from the moment of birth. They look, listen, touch, taste, pick up, manipulate and smell almost anything that comes into their grasp. Designed to isolate and categorize qualities of the environment perceived through the senses, the Sensorial activities focus on the development of sensory perception. Our VPK program offers a multi-sensory approach to learning, encouraging the children to use the optimum combination of senses for learning.
Our Sensorial curriculum is designed to help children focus their attention more carefully on the physical world, exploring with each of their senses the subtle variations in the properties of objects. We use Montessori Materials such as The Pink Tower, Red Rods, Geometric Cabinet, Color Tablets, and Knobless Cylinders, to name a few.
The Pink Tower: Ten graduated wooden cubes, usually painted pink, stack in sequence to form the Pink Tower; students identify an incremental decrease in size in three dimensions.
The Geometric Cabinet: Wooden cabinet containing six shallow drawers of geometric figures cut out of wooden squares. Matching exercises that introduce the concept of equivalencies also provide various memory-reinforcing games. Exploring which inset can fit into a different shapes' frame further develops an aptitude for Geometry.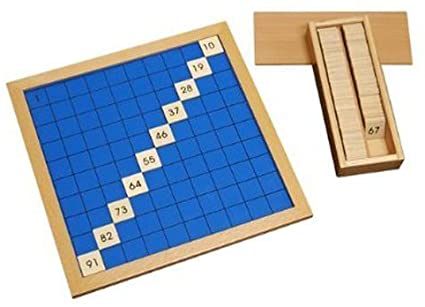 VPK Schedule
Arrival (11:15 to 11:30 am)
An important transition period from home to school environment – Teachers greet students, students reacquaint with friends, play and prepare for the day's activities.
Montessori Work Cycle (11:30 to 2:00 pm)
Students choose exercises in the various areas of the Montessori classroom – they learn a sense of order in working with the materials, in placing their work on mats and in returning their work to its proper place on the shelves. Teachers assist the child in guiding and directing their activities and offering assistance when necessary but allowing the child to make as many independent choices as possible.
Playtime (2:00 to 2:30 pm)
Physical Exercise and Development of Social Skills through Peer Interaction – Large muscle group exercises in climbing, jumping, crawling, running, etc., Children practice taking turns, sharing & helping each other
Dismissal (2:30 pm)