Come & Feel The Difference
Montessori Bilingual Academy of Rockledge offers a quality Montessori education in a stimulating, nurturing environment for children ages 12 months-9 years. Our educational programs do much more than teach your child; they encourage self-discipline, self-knowledge, independence, academic skills, problem solving ability, and a love of learning. As a parent, the choices you make for your child now will have a profound effect on their future development and success. Make the right choice for your child at Montessori Bilingual Academy of Rockledge.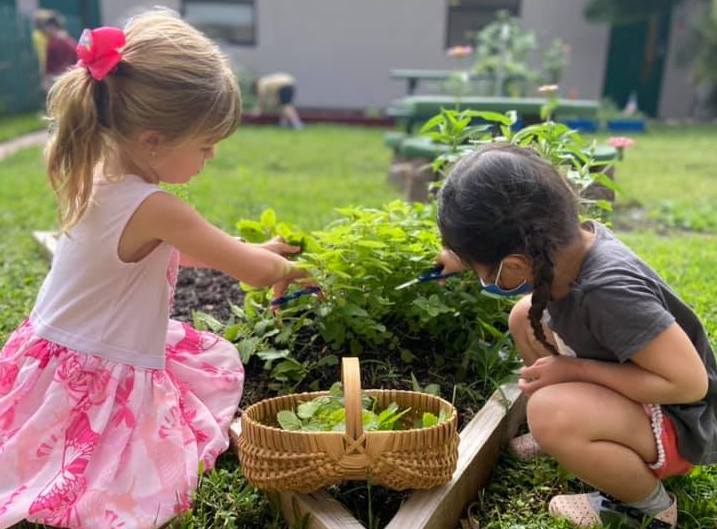 The Director's Message

Welcome to Montessori Bilingual Academy of Rockledge! Thank you for taking the time to learn more about Montessori Bilingual Academy of Rockledge. Each day at our school is an exciting new opportunity to enrich the minds of our students, and we hope your child will join us.
Montessori Bilingual Academy of Rockledge welcomes students regardless of race, gender, national and ethnic origin, and is non-discriminatory in all our policies. We accept children between the ages of 12 months to 9 years.
There are no specific academic entrance requirements; however, we base admission decisions on many factors, especially your child's age and suitability for our program.
Please schedule your personal tour of our school. We will be happy to answer your questions and provide additional information about our educational programs.
Kind regards,
Paula Hamill
Director, Montessori Bilingual Academy of Rockledge
Our School
The Environment
Our curriculum and classrooms are specifically developed to gather the interest of each child, motivate them to complete and master their work. Our classrooms are fully equipped with Montessori Materials which allows each child to develop basic problem solving and observational techniques. Soon the child will begin manipulating the materials to allow the child to obtain concrete knowledge and gradually work towards comprehending abstract concepts.
By providing an environment where the child feels encouraged to learn and explore, we are "freeing the child's potential". It has become one of the most important recognitions of Dr. Montessori and has been supported by a multitude of studies in early education. Our classrooms are equipped with specially designed and sequenced materials which Dr. Montessori devised to flourish the child's potential.
These materials, together with highly trained teachers and administrators, provide a classroom where the child is stimulated and challenged but never pressured. It allows the child to develop a sense of security and provides a learning atmosphere where they can continue to wander, explore, and succeed.
The Child
For a child to reach the highest potential, they must develop certain aspects including a healthy self-concept, independence, and self-reliance. Obtain the ability to adjust and think reflectively. Comprehend values and beliefs. Learn to be sensitive and accept human relationships. Appreciate nature, culture, and the world that surrounds him. All of these attributes are shown to our students and are reflected daily throughout our curriculum.
"An education capable of saving humanity is no small undertaking: it involves the spiritual development of man, the enhancement of his value as an individual, and the preparation of young people to understand the times in which they live." —Education and Peace
The Educators
The role of the Montessori Educator differs considerably from that of a traditional teacher.
The teachers:
Observe and assist the child according to the child's individual needs and interest.
Recognize periods of readiness and to demonstrate the correct use of the material to the children.
Reinforce in a positive manner.
Encourage a hesitant child when necessary.
Divert a child who chooses material beyond his/her ability when necessary.
Protect the child's integrity and allows the child to have the freedom of choice to make decisions. The child's decisions are expected to reflect a sense of responsibility. He/She is helped by the Educator who is firm and consistent, yet patient and gentle.
Provide an atmosphere of caring, compassion and trust between teacher and pupil.
Scholarships
Our school now offers scholarships for our Kindergarten and Lower Elementary students through the Step Up for Students program. Currently we offer the The Family Empowerment Scholarship for Educational Options (FES-EO), the The Florida Tax Credit Scholarship (FTC), and the Family Empowerment Scholarship for Unique Abilities (FES-UA). Parents can apply for these scholarships through the Step Up website, www.stepupforstudents.org. Parents are responsible for any tuition or fees that are not covered by the scholarship.
** FES-UA students: Please note that a parentally placed private school student with a disability does not have an individual right to receive some or all of the special education and related services that the student would receive if enrolled in a public school under the Individuals with Disabilities Education Act (IDEA), as amended. Our school will make reasonable accommodations for any student with a disability within the school's ability, and will refer parents to outside resources if we are unable to meet the child's needs.
Our Team
The role of the Montessori Guide is to observe each child individually, and present lessons they will soon be able to master. Our educators promote learning, and it ensures that the student grasps a deeper understanding of the activities the child has selected.
The Lead Educator controls the classroom environment. The child's work is honored and respected, and the Lead Educator through extensive observation and record keeping, formulates a plan of action to introduce new materials and lessons for each student individually. Assessments are not based on numerical grades, tests, nor homework. They are established by ongoing observation, mastering concepts, and completion of work.

Our teachers are what make every day special for our children. Our teachers are creative, understanding, and passionate. They work with families to create every child's own success story.
Room 1
Mrs. CarolAnn (Montessori Certified)
Mrs. Ivonne
Mrs. Adriana
Mrs. Sandra
Room 2
Ms. Michelle (Montessori certification in-progress- completed classroom instruction- will be fully certified July 2023)
Mrs. Javnia
Ms. Frances
Room 3
Mrs. Yasmin (Montessori Certified)
Mrs. Lisa- assistant
Mrs. Jaione- Spanish Educator
Room 4
Ms. Catherine (Montessori Certified)
Mrs. Kristen – Assistant
Mrs. Marta – Spanish Educator
Room 6
Mrs. Linda (Montessori Certified)
Ms. Teysha – Assistant
Ms. Edna – Spanish Educator
Elementary
Mrs. Kat (Montessori Certified)
Ms. Fernanda- Spanish Educator