Precautions & Procedures
We are constantly monitoring the CDC guidelines and DCF to provide the safest environment for your child. If guidelines change within the State of Florida we will immediately update our protocols to be within compliance. We continuously follow the Brevard County Health Department regularly for any updates or changes.
We ask all families if feeling sick please stay home.
Class sizes are kept within the CDC ratios. Educators will remain with their students only to decrease the spread of infection.
Temperatures are taken daily for all students, teachers and staff.
During morning drop off and afternoon pick up, educators will meet parents at their cars, and guide the student to their classroom.
Educators are required to wear facial masks. Children ages 3 and up have the choice to wear face masks or face shields.
Hand washing is performed multiple times per day.
All Montessori materials and supplies are sanitized prior to another student using them.
There is no longer a community chest, each student has their own school supplies that will be utilized throughout the year.
Visitors and parent visits are limited. If needed please call the office to make an appointment. Face shields are required.
Each class will have playground time at different times and in different areas.
Lunch, snacks will be eaten within the students' classroom.
All ACs were replaced in July 2020. Every unit has UV lights for air sanitation.
All classrooms are disinfected throughout the day and they are sanitized daily.
https://www.cdc.gov/coronavirus/2019-ncov/community/schools-childcare/guidance-for-childcare.html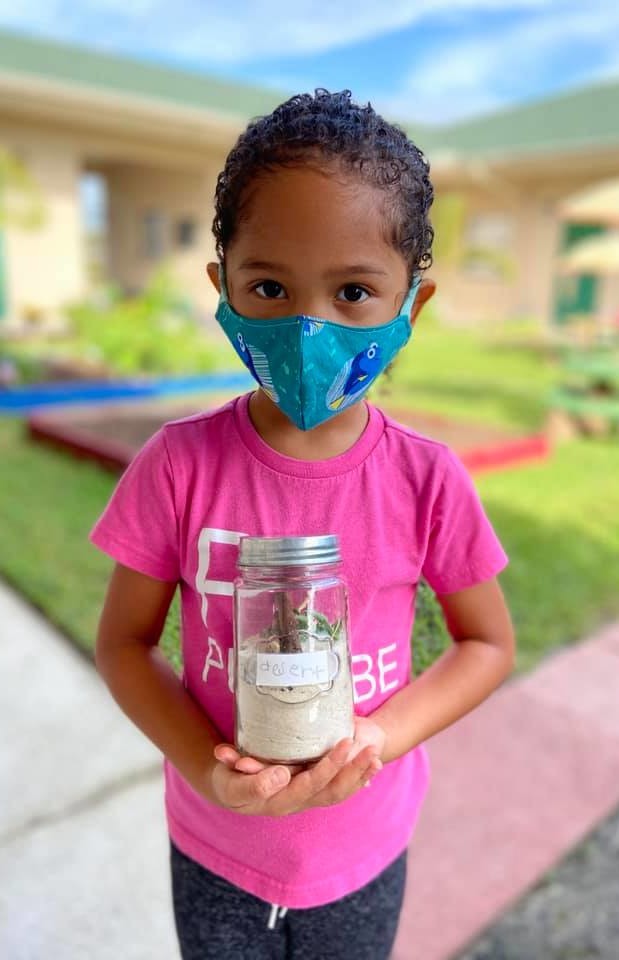 COVID – 19 GUIDELINES
Safety of our children is one of our core values. We are following the guidelines of CDC, DCF and the Department of Health alongside with state regulations. In addition we added additional protocols within our school family.
The following guidelines will be implemented during normal school hours to insure the safety of our students and teachers.
All students, employees and visitors will be screened through verbal and visual assessments. Temperature will be taken daily, any students or staff with a temperature of 99.6F will not be allowed to enter the school.
Starting August 10, 2020,  to decrease the amount of children and parents from coming to the gate to enter the school, an educator will come to your car to pick up your child. Your child's temperatures will be taken in the car. Please have your child's belongings ready for the staff.
For pick up, please inform us 10 minutes prior to arrival via BrightWheel, so we can meet you at the gate or in your car with your child.
For children ages 3 and above, face shields will be ordered. Each child will have his/her own face shield. Children will be required to use face shields while inside the classroom. Face shields will remain at school.
All staff will be required to wear face masks and/or face shields while inside the classroom.
All classrooms will be sanitized daily per guidelines of CDC. Frequently touched surfaces, such as: doorknobs, desks, Montessori Materials, rest mats, counters, supplies will be disinfected every hour. Bathrooms will be cleaned after each use.
There will no longer be a community chest. Each child will be responsible for his/her own school supplies. Please refer to the Supply List below. Please label all supplies with your child's first and last name.
Frequent hand washing will be continued.
Parents will be notified immediately to pick up their child, if they experience excessive runny nose, abdominal pain, diarrhea, fever, vomiting, wet cough, etc. The student will be taken to the 'sick room', and the educator will be with the student the entire time until the child has been picked up by the parent.
If a child has a fever of 100.4F or higher a doctor's note is required prior to returning to school.
Small group lessons will be taught outside (weather permitting) as frequently as possible.
Different playgrounds will be used for different classrooms.
Have A Question?
We tried to think of everything, but if you have a question please let us know! We aim to respond to all inquiries quickly, with our office being open Monday to Friday, 7 a.m. to 5.30 p.m.